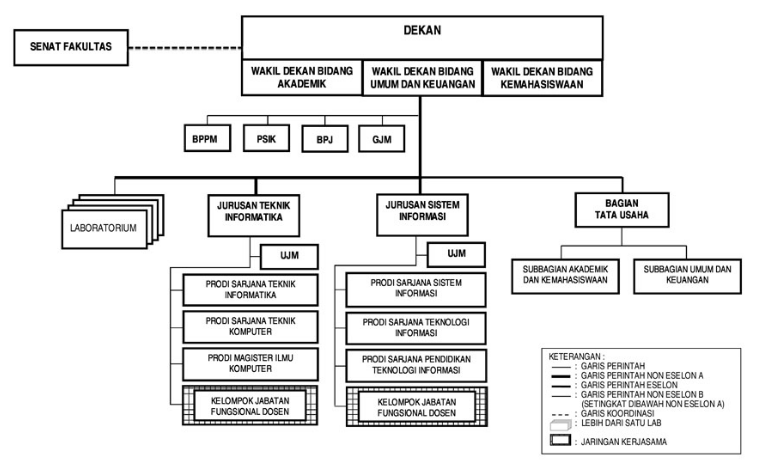 Management Master of Computer Science/Informatics Programme is one of responsibilities of Faculty of Computer Science. Management Master of Computer Science/Informatics is led by Dean and assisted by Head of Programme that nominated based on Rector's Decree. Dean Faculty of Computer Science have responsible of all internal and external academic activities of Master of Computer Science/Informatics Programme to the Brawijaya University Rector.
Leader of Programme
Head of Programme: Fitri Utaminingrum, Dr. Eng., S.T, M.T
Qualification and mechanism of Head Programme nomination has been arranged based on Structure and Function of Management refers to Statute, Organization and Working Procedures (OTK). Faculty of Computer Science has its own management and structure in form of regulations completed with clear function and authority, include Master of Compute Science/Informatics Programme.
Main task and function of Master of Computer Science/Informatics Programme are:
Academic implementer unit in Faculty of Computer Science that holds academic education of graduate program in computer science field
In charge to develop scholarly of computer science
Management system has been arranged to actualize vision, implement mission and strategies to meet the goal of programme. Management system arranged in 5 (five) pillars, namely:
Credibility, means that programme is a graduate education institution that can be trusted by public.
Transparancy, means that programme gives opportunities for academic communities to get all needed information about management of programme.
Accountability, means that management of programme have responsibilities in academic and non academic issues. Academic accountability can be met with annually audit of academic quality by Academic Quality Auditor in Program of Internal Audit of Academic Quality (AIMA). Audit program is coordinated by Quality Assurance Center (PJM) Brawijaya University along with Quality Assurance (GJM) in faculty level (FILKOM) and Quality Assurance Unit (UJM) in programme level
Responsibility, means that programme have responsibilities to all of academics community and public to do the best work.
Equitable, means that all academic and non academics aspect manages very well in conformable, harmonious and balance.